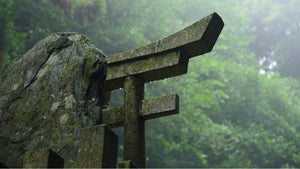 Authentic Japanese
Organic Matcha
An ancient flavour, for the modern warrior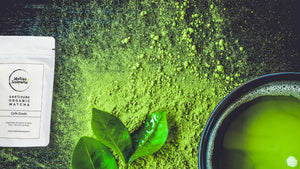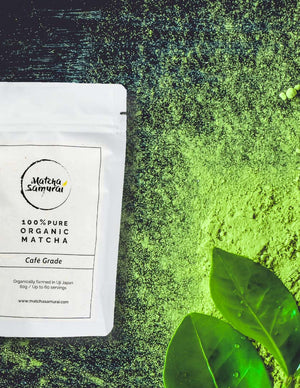 Purchase any 2 60g Matcha and get an accessory set for 50% off!
*excludes culinary grade. Must add set to cart. For new customers only. Use discount code ACCESSORY50%
The Best Quality Matcha outside of Japan.
We Offer Money Back Guarantee to ensure your satisfaction. If you feel that our Matcha falls short of being the best you've ever tasted, we offer a complete refund. Please note that this guarantee is applicable only to our 60-gram bags.
Order our 60g Matcha on a recurring subscription and enjoy a 10% discount.
*choose the frequency of delivery from 2 to 8 weeks.
Shop Now
Three Grades
Authentic Japanese Organic Matcha, in 3 grades, each for a unique use of its own. Delivered to your door with a simple click of a button.
Learn More
MATCHA SAMURAI IS
JAS CERTIFIED ORGANIC
The JAS organic seal ensures food safety with the highest Japanese certification standards, giving consumers confidence.
Learn More
ACCESSORIES
The Perfect Matcha Accessories
Our high quality range of Matcha accessories will help you to create the perfect Matcha drink every time.
Shop Now
We source the best quality
Japanese Matcha
We bring it into NZ for individuals and cafes to innovate their daily recipes. Delivered to your door with a simple click of a button.

We want to inspire Kiwi's on how they can use Matcha to change up their daily beverages and baking.
Shop Now
Become a Matcha Warrior!
Sign up to our loyalty program to earn points and rewards on your purchases and more!
Learn More
Sign Up
Don't take our word for it
We love Matcha Samurai, a beautiful, high grade product and great people to work with. We've converted many people from hard core coffee fans to finding the joy and benefits of matcha, thank you team! 💚
Love this green tea! Much more flavour than standard green tea, great service and highly recommend. A long list of health benefits too!!
Absolutely love my new morning ritual of having a Matcha Samurai latte with almond milk in the mornings! Great healthy alternative to coffee. I also have been adding a teaspoon to my mid morning smoothies and this has gone down a treat!. 100% recommend trying this product especially if your hoping to gain the extra health benefits that come with it too.
Matcha Samurai ... my new favourite ! Normally I am a coffee kind of girl but not anymore! I got the 100% pure organic Matcha - Culinary Grade pack and I will be ordering more soon! Thank you Matcha Samurai!
Awesome friendly and knowledgeable customer service, thanks so much for getting in touch with us! We are so glad to have tried your product and we are excited about sharing it with our customers. The feedback so far has been great! Matcha Samurai cafe grade is a far superior product to any other Matcha products we have tried!
Great matcha! Much better than anything else I have tried, and consistently good.
Fabulous product and exceptional service. All what you would expect from a Samurai
Download our Recipe Book!
For free... just enter your details below.